R.E.M.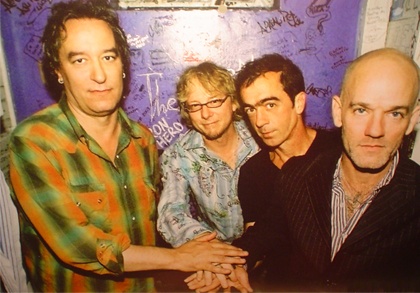 Dopo otto anni di onorata e fortunata carriera a cavallo tra i suoni di certo folk-rock psichedelico e una vena 'indie' mutuata da trascorsi live sui palchi del circuito punk, firmarono nel 1988 un contratto miliardario per la realizzazione di 'Green', che li portò in breve ad essere la più celebrata band del rock americano, l'unico in grado di rivaleggiare con gli U2 in termini di successo popolare e di carisma, di compiutezza artistica e innovazione, di rapporto con il pubblico e indipendenza creativa. La loro storia inizia nel 1980 ad Athens, Georgia, quando a Peter Buck e Michael Stipe si uniscono Bill Berry e Mike Mills per dar vita a una band che predicava il verbo sonoro della nuova onda in maniera originale, mescolando febbre psichedelica e punk, ma anche qualche ricordo dei Birds e dei Doors. L'esordio discografico è del 1982 con 'Chronic Town', ma è con 'Murmur', l'anno seguente, che il mondo si accorge di loro.
Sono una band singolare, nel senso che il loro rapporto con la new wave degli anni ottanta è, per così dire, saltuario, così come la loro vicinanza agli altri movimenti dell'epoca. All'interno della storia del rock, riescono a tenere insieme passato e futuro, sentimento e ragione. Dischi e concerti, anno dopo anno, contribuiscono ad accrescere la fama del gruppo, che nel 1987, con 'Document', arriva a scalare per la prima volta anche i vertici delle classifiche di vendita, superando il milione di copie.
Nel 1988 la Warner, come detto sopra, mette i R.E.M. sotto contratto, e loro pur abbandonando la musica indipendente non cambiano atteggiamento anzi, 'Green', il primo disco realizzato per l'industria discografica multinazionale, li confermano ancora una volta coerenti con le proprie idee.
Stipe, Mills, Berry e Buck restano indipendenti dalle mode che pian piano modificano lo scenario musicale americano, restano indipendenti dalle ideologie, legando la vita del gruppo a innumerevoli battaglie di libertà. Negli anni novanta i R.E.M. si trasformano in una band dal successo planetario, e lo fanno con due album: 'Out of Time', del 1991 e 'Automatic for the People', del 1992, che possono ben essere considerati i loro capolavori, in piena controtendenza rispetto all'ondata grunge e metallica di quegli anni.
Stipe il principale artefice del gruppo, è carico di una vitalità straordinaria, ha un'espressività che non si limita alla voce ma passa attraverso il suo corpo, i gesti, e la presenza sul palco. Stipe vuole essere 'visto' perché i R.E.M. credono ancora nella forza del rock e lo dimostrano con i dischi successivi: 'New Adventures in Hi-Fi', del 1996, 'Up', del 1998 e 'Reveal', del 2001, non fanno che confermare il loro status e la loro libertà creativa, sfuggendo a mode e tendenze. I successivi 'Around the Sun', del 2004, e 'Accelerate', del 2008, risulteranno al di sotto delle aspettative, ma pur sempre dischi degni di rispetto musicale, quel rispetto che i R.E.M. si sono guadagnati nel corso di questi anni, di quel rispetto che soprattutto loro stessi hanno sempre avuto nei confronti dei loro fan, e del mondo intero.
1985 - Fables of the Reconstruction
1986 - Lifes Rich Pageant
1987 - Dead Letter Office
1991 - The Best of R.E.M.
1992 - Automatic for the People
1996 - New Adventures in Hi-Fi
2003 - In Time: The Best of R.E.M. 1988-2003
2006 - And I Feel Fine: The Best of the I.R.S. Years 1982-1987